Discover more
Catch up on our latest news
Hand-knotted
Hand-knotted area rugs
In 1980, ICE International founder Frits Janssen and a Tibetan business partner started weaving rugs in Nepal. Presently, after 37 years, their subsequent generations  are still working together on the basis of exclusivity, making beautiful, custom-made and hand-knotted area rugs for high-end residential and hospitality projects around the world. These area rugs are woven by hand, thread by thread, knot by knot. The Tibetan wool used for these rugs is one of the strongest available for area rugs. Thanks to its greasiness and the long fibres from sheep living in the rough Himalayan Mountains, the rugs are of very durable quality which can last for years to come. Great luxurious effects can be achieved by using pure natural silk.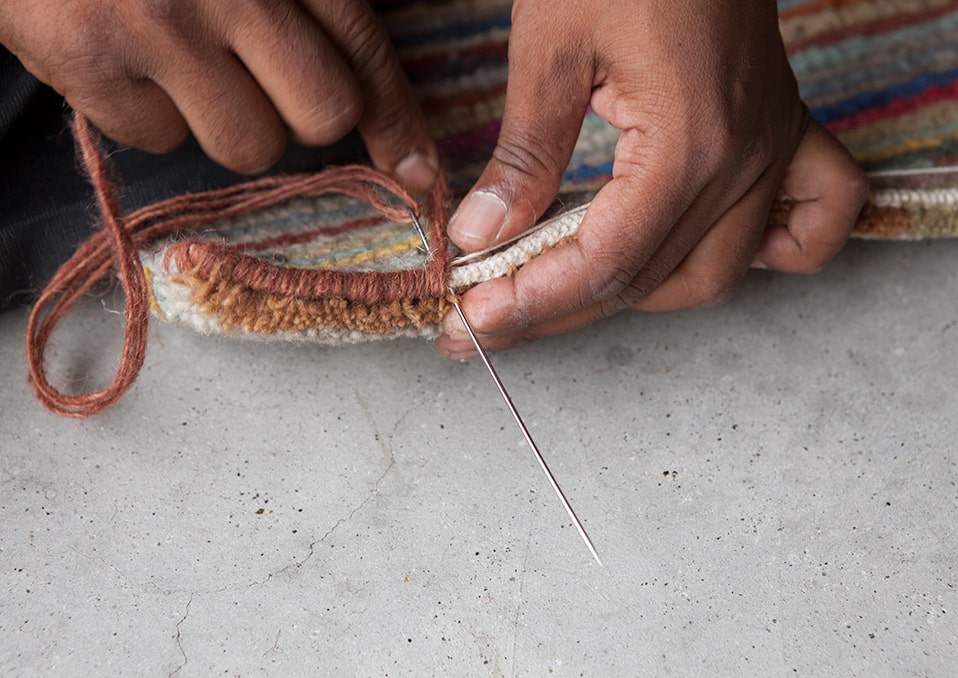 The development of a hand-knotted area rug is a unique and fascinating process, especially in today's modern world. The process starts with the client's mood board. To ensure the concept is properly understood, the ICE designers always communicate directly with the client. Once the final artwork is approved, the production facility will start spinning and carding the yarn. This is all done by hand, as it gives the area rug a livelier look. Next, the yarn gets coloured in boiling water. On average, a hand-knotted carpet has about 155,000 knots per square meter. After the weaving, the rug needs to be washed in clear water. The washing makes the wool fibres firmly knit together. The washing might change the dimensions of the rug. The rug is stretched to keep the desired dimensions. After stretching, the edges get a neat wool-binding and the shearing can start. The shearing is completely done by hand, which means different pile heights can be created. The finishing is the most difficult part, so only highly experienced workers can do the clipping and carving. The carving sharpens the designs. Once the production is completed, any rug gets thoroughly checked by both the production manager and the designer.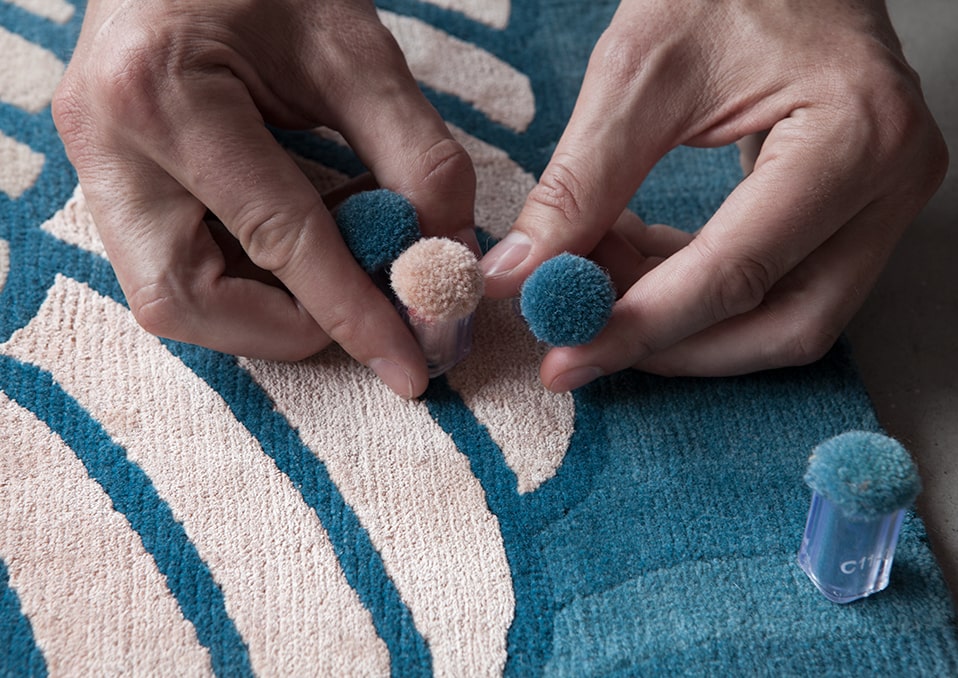 ICE offers 5 different densities, starting from 40 knots per square inch up to 150 knots per square inch. Like the pixels of a camera, a higher density improves the sharpness of the design. Hand-knotted area rugs can be developed in round, rectangular and oval shapes. The lead-time depends on the size, density and intricacy of the design.
An inspiring reference project for hand-knotted area rugs is the Park Hyatt Hotel in New York. In close collaboration with Yabu Pushelberg, ICE developed and produced hand-knotted area rugs for all guestrooms, suites, lift lobbies, bars, meeting rooms and spa.